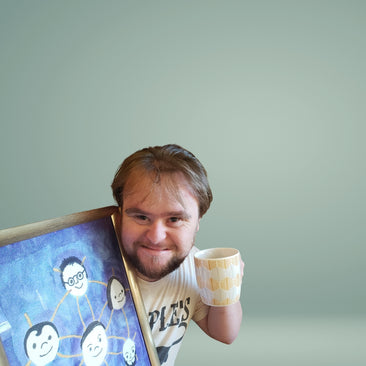 More about Fionn Crombie Angus
Three Headed Troll, Greeting Card
Regular price
Sale price
£3.00
Unit price
per
Sale
Sold out
The
Three Headed Troll
is a piece by father and son team, Fionnathan.  Fionn has Down's Syndrome and has been an advocate and campaigner for personal, self-directed independence for a number of years. He played a significant roll in the recent passing of the Downs Syndrome Bill in parliament and is well accustomed to public speaking. His father Jonathan is a firm believer that people prosper together, rather than in isolation. Together they have travelled the world encouraging people to think beyond stereotypes, demand social justice and support environmental change.
The
Three Headed Troll
is a monster is from the North Country. 
"We think of the troll under the bridge as a metaphor for the risks you have to overcome to get good things in life. He shouldn't be feared or hated. Knowing he's lurking in the shadows just makes things more exciting." 
This piece of art challenges us to be braver, be bolder and defeat our own monsters. It makes us at Art Rabble virtually tingle with adrenalin! Send this card to a friend and share Fionn and Jonathan's inspiring story of the
Three Headed Troll
.
Three Headed Trollprinted on high-quality 330gsm Fedrigoni card.
Share