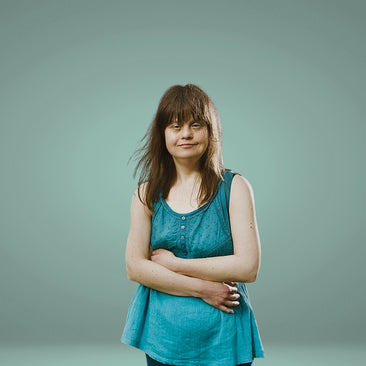 More about Tazia Fawley
Sunset & Flowers Framed Canvas
Regular price
Sale price
$109.00
Unit price
per
Sale
Sold out
Sunset & Flowers by Tazia Fawley was inspired by a photograph by Kingsley Scott. It is of a beautiful sunset at West Pentire in Cornwall.  Tazia is an established artist who has exhibited work in London, Manchester and New York. Tazia considers herself an artists who just happens to have Downs Syndrome, it is the not the main thing that defines her.
Tazia explains how the piece came together, "I really enjoyed trying to work out a way to do the sunset.  It was very difficult but I like the result.  I went to see some painters at the National Gallery whilst I was in London and liked one by Seurat very much, and he painted in little dots of colour, so I've tried to do that for the sunset."
The use of colour in Sunset & Flowers is exceptional. Here at Art Rabble, we have rarely seen such a luminous and beguiling painting. A true show-stopper and talking point. You will not regret putting this picture on your wall!
Sunset & Flowers is presented in a 38mm stretched canvas within a modern, deep, picture frame. The addition of the frame around the canvas creates a quite distinct piece of art, creating real impact. The frame also sits approximately 5mm from the edge of the canvas creating a floating border. 
Share