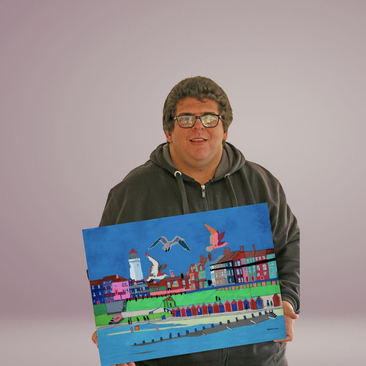 More about Spencer Turner
Blue Wave, Framed Canvas
Regular price
Sale price
£69.99
Unit price
per
Sale
Sold out
Spencer is a member of the Art Box art group. Spencer has a complicated medical history alongside his learning difficulties.  He is a gentle giant, very self aware and a wicked mimic.  Spencer's work has a great sense of colour and vibrancy and, despite his social anxieties, he has organised his own exhibitions, including being part of the Aldeburgh Festival. 
"Blue Wave" was created by Spencer and has a mesmerising charm, looking into the canvas you can not help but be spellbound by the undulating motion of colour and pattern.

Blue Wave is presented in a 38mm stretched canvas within a modern, deep, picture frame. The addition of the frame around the canvas creates a completely new form of wall art, quite distinct to a standard canvas or traditional framing behind glass. The frame also sits approximately 5mm from the edge of the canvas creating a floating border. This gallery style framing is really special, you will love it!
Share